Hey honey bunch chuck chuck ( yeah i call people weird names, deal with it)
So Finally im doing a tag, where i was actually tagged in! wooop woop
i was Tagged by the Beautiful Taiwo @ Stuffed shelves, so the tag isn't totally bookish so i merged it with another book tag called ALL I WANT FOR CHRISTMAS BOOK TAG!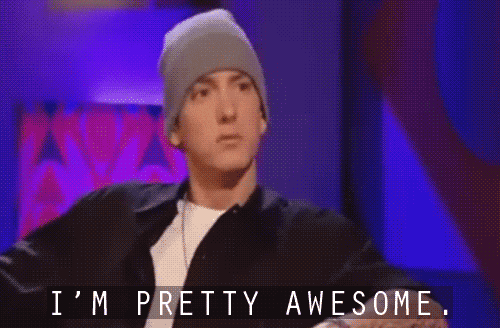 THE RULES
Mention 12 facts about yourself

Answer the 12 questions ( those are the questions of  ALL I WANT FOR CHRISTMAS TAG)
Tag a few bloggers ( the original post says 12, but let's be honest here, 12 ? pffft)
12 FACTS 
I'm Hijabi ( yyeah i just stated the obvious, thank you very much )
 Also I'm an engineer under construction ( i mean im still in uni lmao)
 A HUGE ROMANCE JUNKIE! and i silently judge any author who writes a book that doesn't involve ROMANCE, i get like: HOW COULD YOUUU??
My first language in school was French, so i was pretty fluent at it, but now with 3 years without using ma language, i have become pretty dumb at it
 I only have like 6 really tiny shelves, which leave the rest of my books on my desk! so you may wonder where do i study, well i have like 60 empty  centimeters where i put my laptop and try to study. ( yes my books take the priority)
I'm so hot tempered, i get angry, SO EASILY, and let's just say, it can get pretty ugly
I'm pretty AF
when i like someone, i tend to be a little more mean with them? it's how i show my love tbh.
 i wear skirts, A LOT, ( long skirts, cause i'm a Hijabi)
 I used to wear Glasses,, but i did this leisek surgery, so i stopped wearing them THANK GOD!!
I haven't read Harry potter before *hiding behind a wall*
Now that you actually made it to the end of this long useless list, i wanna say that  I LOVE YOU for doing so :))
QUESTIONS
1) What fictional character do you want Santa to leave under your Christmas tree?
Iko from the Lunar chronicles
2) What character do you want to kiss under the mistletoe?
RHYSAND!! from a court of thorns and roses
3) You write your Christmas list for Santa, what are the top five books on it?
Throne of Glass SERIES by Sarah J. Maas
The raven Boys SERIES
Hunted by Meagan Spooner
Roomies  by Christina Lauren
Bad Romance by Heather Demetrios 
4) It's Secret Santa at Hogwarts, what do you most want to receive?
okay so that's a Harry Potter related Question, so i don't know what answer are you guys expecting from me, but i still want books, duuh!
5) You get to spend the day with the characters and movie adaptation actors from one fandom, what do you pick?
I absolutely hate movie adaptions, but Now After series is being filmed, so maybe them? i guess?
6) What fictional animal would you like to replace Rudolph and be able to meet on your roof?
The bone Craver
7) You invite ten fictional characters to your New Years Eve party, who do you pick?
RHYSAND
AMREN
FEYRE
IKO
TRAVIS  MADDOX
HARDIN
AMERICA SINGER
PRINCE MAXON
JULIETTE, FROM SHATTER ME?
KLINE, from Tapping the billionaire
8) What character would make a good Santa (doesn't have to be appearance, personality counts too)
Amren from ACOTAR HAHAHHAHAHAHA
that would be really Scary!!
So that's it, 2 Tags, 1 post! woop woop
so i do have to go right  now,i have an exam tomorrow, so i don't have time to tag anyone, but feel free folks, do to this duet
love ya!